Roopkund Trek
Roopkund Trek
Challenge yourself with this Roopkund trek and make your way up the hills of Garhwal, where you will witness stunning views and scenery.
---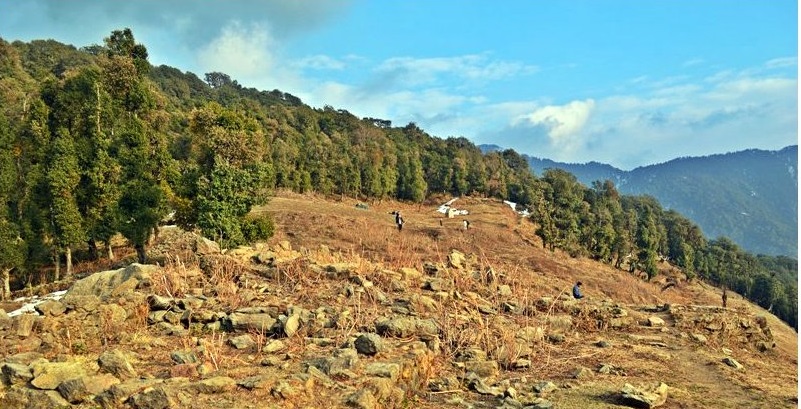 Overview
Approx Trekking Km :
53 Kms.
Grade :
Moderate To Difficult.
Max Altitude :
15,696 Ft.
Due to high mountains, low valleys, glistening rivers, deepest forests, vast pastures and beautiful views, India is considered as the most favorite spot among trekkers. Himalayan Mountain is an incomparable range that attracts trekkers from world wide. One such trek that is the dream of every trekker is Roopkund.
Situated in Uttarakhand of Garhwal region, Roopkund trek encompasses the true Himalayan beauty. The name of the trek is based on a magnificent lake that remains frozen all through the year. Located at the high elevation and enclosed by the mountain range from all sides, this lake offers the immense beauty of nature.
About the Trek :

Roopkund trek starts from Lohajung. Situated at the elevation of 3200 mts, this joint has narrow and curvy roads that cross from one slope of the mountain to other. While crossing the mountain, you can witness amazing views of the valley. Didna Village is the second destination. It is very difficult to reach there as it is located at the height. You have to cross mixed forest to reach there. Then you will come to Ali Bugyal. Surrounded by mountains, this is the perfect place for taking some amazing photographs. Ghora Latoni is the next destination, which is 3 km far from Ali Bugyal. This walk is an easy walk. Situated on the plain, Ghora Latoni is the best place for campsite. From there, you will reach Bhagwabasa. Trail going to Bhagwabasa is very crisscross and moves uphill towards the mountain. Roopkund is the last destination of the trek. It is 5 km far from Bhagwabasa, and the trail is very ascending and steady. Witnessing the lake after so much exertion is the life time experience. After spending some unforgettable moments, you can come back to your base camp by reversing your trek.

We are considered as the most prominent company for providing impeccable services in Trekking sector. Our deals are customized as per the choices, preferences and budgets of our precious clients. We believe in simplicity and are sure that you also believe in the same, that is why our all conditions are explained to you at the primary stage. We also do not charge for some hidden taxes from our customers. So, next time you are planning your trekking expedition, contact us first. Once contact all you have to pack your bags and prepare yourself for collecting some wonderful memories of the journey!!
---
Brief Itinerary
Intineraries map
| Partecipans | Start date | Duration | Price |
| --- | --- | --- | --- |
| 1 | 20/07 | 3 days | $500 |
| 4 | 25/07 | 5 days | $1500 |